Well done for a 3 year old...
Bugsy is clearly not your average Pug.  First, he is quickly becoming a celebrity on Instagram with over 10,000 followers. Partial credit is definitely due to his cute face and adorable short legs.  Next, Bugsy is also a business owner and the face behind Bugsy's Box, a monthly box of goodies for dogs. Finally, Bugsy is also a philanthropist as Bugsy's Box donates a share of their proceeds to dog rescue/shelter associations.  You may be wondering, how does one cute Pug handle all this when they love to sleep as much as 14 hours a day?  That's a fair question and the secret to Bugsy's success is simple . . . he strongly believes that "we all have as many work hours in a day as Beyonce".
Fun and games aside, Bugsy is actually the Bugsy's Box founder's pup, his best friend, and the inspiration behind  BugsysBox.com.  Bugsy's owner was tired of going to the pet store, wasting time and gas, only to find the same narrow selection of overpriced treats and toys.  Bugsy's owner wanted to find a more affordable and innovative solution to pampering his pup with high quality goodies and that's how the Bugsy's Box idea came to be.  The main idea was to allow pet owners to spoil their furry best friends without breaking the bank.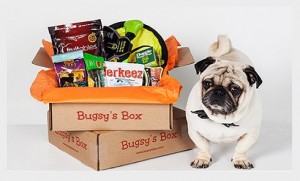 Another priority at Bugsy's Box is helping to support the less fortunate shelter and rescue dogs that are also in need of attention.   So, while folks are spoiling their own pets with high quality, hand-picked goodies, Bugsy's Box donates a share of the proceeds to dog rescue/shelter associations.   This makes Bugsy a very happy dog philanthropist.
If you like Bugsy's idea, you can check out his website here: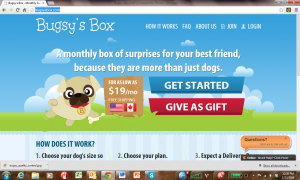 For more on Bugsy, check out his page on Instagram, Facebook or Twitter!